I think I am making the wrong size clothing. While browsing the
sew mama sew
pool over at flickr I came across the cutest photo of a toddler outfit. Upon further investigation I ended up at
Bowznstuff
blog. She has the absolute cutest designs for toddler clothes I've seen. You know you only can dress like that when your a kid, so you may as well live it up. Adults can only get away with that on some occasions and even then people look at you odd. Its the whole reason behind why I design my own stuff to begin with. I think the world should be a more colorful place. People are too serious sometimes.
Anyhow, I really love this British punk outfit, OMG I wish it was my size!!! I think I have a t-shirt like that somewhere so I will try to recreate the look for myself. The best part of the whole thing is the Hat! You should stop by her page and have a look.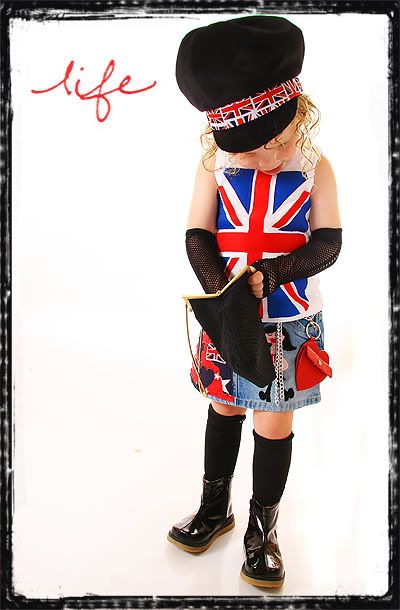 Next up for me is finding models and getting some better photos, because I am also really impressed with how nice hers look. Whew! Running a business is lots of hard work!